I've never refashioned a little girl's shirt, but I'm going to attend a one year old's birthday celebration soon, so I started searching the internet for some inspiration.
I'm loving the ruffles on this shirt.
I love the grouping of flowers on this shirt. I think it would be so cute as a tank top.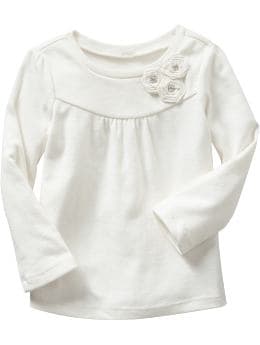 I love the layers on this one

.
I LOVE the ribbons on the bottom of this one!
Oh man. Now that I'm looking up pictures and really thinking it through, I'm starting to freak out. I'm thinking through the whole process. Refashioning a couple shirts, wrapping them, then the gift being opened in front of a bunch of people... I'm feeling sick/nervous about it already. I just might chicken out.

Do any of you ever get nervous about DIYing something (clothes, a decorative item, or anything else) to give away?